A little-known story – I came into possession of a carved stone that was salvaged when Old Snow Hall was torn down.  Knowing its importance, I worked with the KU Endowment to make sure this little, albeit heavy, piece of history was properly looked after.  Below are excerpts from the flier that is given out once this stone found it's new home in the DeBruce Center.
________
Old Snow Hall was one of KU's first four campus buildings. It was a highlight of campus from the 1880s until the 1930s, and hosted KU's early physical education classes.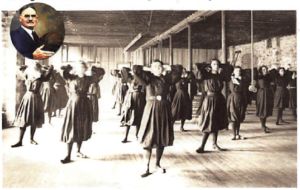 Many activities were held in the large basement room of Snow. Dr. Naismith officed in the building and oversaw the very first games of basketball on campus in this very room…
The basement was inadequate as a basketball gym, with pillars in the middle of the room and a ceiling only 11 ft high. To improve the area for basketball, the floor was dug out 3 ft under the foundation. Perhaps consequentially, the building was condemned in the 1930s and tom down.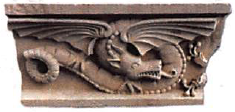 The stone on exhibit was saved from salvage by Keith Middlemas, KU alum, and stone mason, and offered to the DeBruce Center through KU Endowment in 2016.