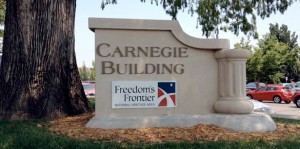 The Carnegie building was constructed in 1904 with a grant from Andrew Carnegie. During the 1930's an addition was build to accommodate the growing volume of books and materials. It served as the Lawrence public library until a new library was constructed in 1972.
The Lawrence Arts Center inhabited the building from 1975 through 2002. It was also in 1975 that the building was added to the National Register of Historic Places as the Old City Library.
In January of 2011 the Lawrence Parks and Recreation Department began operating the facility, once again making it available for public use. Destination Management and the Freedom's Frontier National Heritage Area will have offices in the facility, as well as exhibit space to display historical information about Lawrence and the surrounding area.
The City asked us to create a new sign worthy of this historic building within the City's budget.  We took great pains to find stone that was the same hue as the building so it would look as if it has been there since the original construction,  The resulting sign also has a column carved into the end like the entrance to the building.