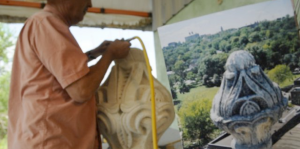 It seems counterintuitive but after much poking and prodding, with the help of friends we have chiseled out our little corner on the world wide web.
This endeavor is new to us, while we have spent decades chipping away at the stone a whole new electronic world as been fashioned by a new generation of artists.  In this new medium, chisels and hammers have been replaced by keyboards and mice.  But this new medium will us to show a much wider audience what we can do from our studio in rural Douglas County Kansas.
Come in, look around and if anything interests you please don't hesitate to contact us.